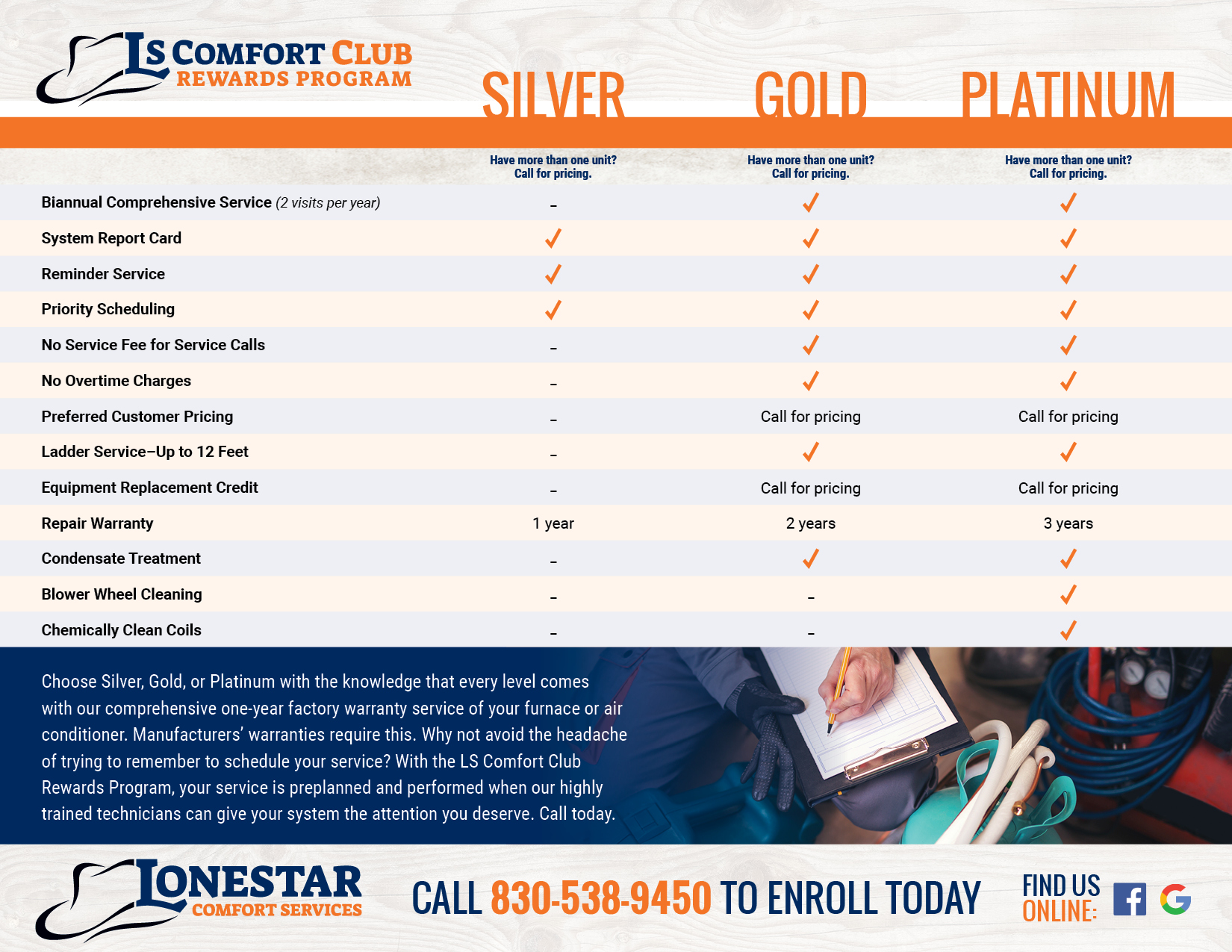 Owning, or even sometimes renting, a home in Castroville, TX, requires general maintenance to keep your investment in working order. It's really all about being prepared. Per Benjamin Franklin, "An ounce of prevention is worth a pound of cure." Maintaining your home's systems and appliances wards off emergency situations and costly repairs while extending your equipment's life. Take the time and money to perform general maintenance on a regular basis. Many of the maintenance services require the knowledge, skills, and tools of a professional. During the maintenance or service call, our technician will make any necessary repairs and/or alert you of a possible situation. Call Lonestar Comfort Services to assist you in maintaining any of the following or to answer any questions you may have:
Furnace Maintenance
We highly recommend an annual service tune-up and cleaning for your furnace. Typically the optimum time of year to perform the maintenance is the fall, before you fire up your furnace for the cold weather. The purpose of the service tune-up is to keep your system running at top efficiency throughout the season, so you have heat whenever you need it. Our experienced technician will clean and check all the connections, controls, sensors, drains, motors, ducts, valves, and blowers, as well as your ignition assembly, thermostat(s), and smoke and carbon-monoxide detectors. Following your tune-up, our technician will instruct you on anything you could do yourself as maintenance between our service visits. One absolute action you can take is to change your furnace filter with the correct replacement every three months, or as needed. This goes a long way in extending the life of your furnace, as well as keeping your furnace repairs to a minimum and your indoor air quality high.
Air Conditioner Maintenance
For air conditioners, an annual service tune-up and cleaning is recommended, usually performed in the spring. Our professional technician will check and clean the connections, coils, blower components, lines, refrigerant, drain, fuses, and thermostat(s), as well as lubricate all working parts. Maintenance you can do yourself between service visits is to remove any yard debris or vegetation from the top and sides of your outdoor air conditioner unit, as well as to keep it covered with an air conditioner cover or tarp in the winter.
Heat Pump Maintenance
For heat pumps, an annual service tune-up and cleaning is recommended, usually performed in the fall, same as furnaces and boilers. Our professional technician will check and clean ducts, filters, blower, indoor coil, ducts, refrigerant, electric terminals, connections, motors, and belts, as well as lubricate all working parts. Be sure to change or clean the filter every three months or as needed. You can also clean the outdoor coils whenever they seem dirty, and keep yard debris and vegetation away from the unit.
Whole-House Humidifier Maintenance
For whole-house humidifiers, an annual service tune-up and cleaning is recommended, usually performed at the same time as your furnace tune-up and cleaning. Our professionals include this maintenance along with the furnace appointment. Typically there isn't much in the way of maintenance; however, our technician will change your humidifier pad and clean any mineral buildup you may have (in the case of hard water). Ask our technician to show you how to dissolve the buildup on your own every few months to keep your humidifier working at top efficiency.
Air-Filtration System Maintenance
For air-filtration systems, regular maintenance is something your can perform on your own. Maintenance on an air-filtration system usually just means changing or cleaning the filter every three to nine months. But you should check with the manufacturer's specific recommendations. Changing or cleaning your filter on a regular basis will ensure the best filtration for your home as well as extend the life of the system. If you need any assistance or would like to install an air-filtration system, feel free to talk with one of our professionals at Lonestar Comfort Services.
At Lonestar Comfort Services, we're here to to assist you in maintaining your home's systems or to answer any of your questions about maintenance. Keeping your equipment in good working order allows you peace of mind to know they'll be there when you need them. It also makes good financial sense to keep equipment serviced to help extend their life spans. Here in Castroville, TX, call us at 830-538-9450 to make an appointment now.
Air Conditioner Maintenance in Pipe Creek, TX 78063
"The spring maintenance for my Trane unit was performed by Brandon Jonas. I have used Lonestar Mechanical since Nov 2018 & Brandon has been the service rep since Apr 2019. Last spring, Apr 2020, Brandon diagnosed coolant leakage and obtained through warranty a new indoor unit from Trane. He recommended additional work to replace worn parts and to improve air flow. His work was professional and orderly."
- Patricia A.
Air Conditioner Maintenance in Castroville, TX 78009
"I was very impressed with the efficiency, customer service and professionalism of Lonestar Comfort. I will definitely be using this company again. Thank you!!!"
- Jessica F.
Annual Heater Maintenance in Castroville, TX 78245
"Just wanted to say thanks to Brandon for the very pleasant heater service and general heat and cooling inspection which he performed on 20 Oct 2020. Brandon was on time, very professional, and he did a very concise service bringing to my attention little things which can help me save on my heating and AC bills. I highly recommend Lonestar Mechanical, consider joining their service club as it is very reasonably priced. I also want to thank Rita for helping me with my technology lack of expertise."
- Wanda H.
Air Conditioner Maintenance in Castroville, TX 78009
"Brandon Jonas did an outstanding job of servicing our old A/C unit. He is very professional and went over every detail, offered us various solutions, and helped us come to a decision. He has a very pleasant personality that puts the customer at ease and made us feel that we were important to him. He cleaned up our unit, updated parts, and installed some needed things to help give our old unit some extra life. It's working great now! We were very pleased overall and highly recommend him."
- Dub W.
Air Conditioner Maintenance in Castroville, TX 78009
"I used to be a electrical service tech, so I know quality service is important for technician companies.
Keith nailed it he was on time, very friendly, informative, and showed quality craftmanship attitude. Thanks you guys and Keith keep up the good work."
- Andy C.
Great Customer Service!
Great customer service. Brandon provide great customer service and he explained everything, and why the services are important to keep the system running.
High Quality
We've had to call Lonestar out for various reasons, but Brandon has always been informative and helpful. We've greatly appreciated his honesty and the high quality of his work. We no longer dread having to call the AC company. We full understand the condition of our unit and the possible soon to be needed repairs along with their costs prior to our maintenance appointments. We've highly recommended Lonestar Mechanical to our friends and family.
Need Maintenance Service?
Contact the experts at Lonestar Comfort Services.
Call us at 830-538-9450!